ROSEVALE KITCHEN & COCKTAIL R
ROSEVALE KITCHEN & COCKTAIL ROOM
Chic With A Retro Twist
Warm and cozy with an edge" is how guests describe the spacious Rosevale Kitchen & Cocktail Room in the two-year-old Civilian Hotel. High ceilings and giant multi-paned front windows are perfect for people-watching while you dine. The reddish-brown leather booths are spacious and can fit as many as six people; it's worth it to request the super comfy "VIP booth" in the far-right corner to get the bird's eye view of what's happening in the dining room and out on the street!
The crowd tends to be young food lovers who like all the surprises: Matzo Ball Soup that features homemade chicken broth, fresh chive and parsley mix with schmaltz poured into your bowl via an elegant rose-covered porcelain teapot! Other dishy options include the quirky Steak Tartare, which features minced locally sourced sirloin, Thai flavors, lime juice, and shrimp crackers. The French Fries are unique since they are fried in beef tallow instead of vegetable oil. Haven't had a Fried Bologna Sandwich since you were six? There's one on the Rosevale menu that includes Mortadella, Provolone, and Cherry Pepper-Dijonnaise, and it is truly an intense mix of flavors! There is no stopping Executive Chef Justin Romine from coming up with retro foods that are turned inside out and given a few outrageous new ingredients!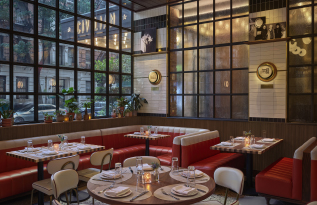 THE BACKSTORY
New York Lifestyles met Sean Christie, CEO of Carver Road Hospitality, the parent company of Rosevale Kitchen, and learned how its vibe and menu were created. Christie has a long career in hospitality having held positions as President of Events and Nightlife for MGM Resorts International and also Executive Vice President of Business Development for Wynn Resorts. He says he "spearheaded the development of multiple food and beverage concepts for both companies."
He revealed to NYL, "The partnership with Civilian Hotel was born with Jason Pomeranc seeing the need for moreaspirational food and beverage concepts. David Rockwell's involvement was also a big draw. With Rosevale Kitchen & Cocktail Room we can curate experiences from cocktail hour through dinner and into late night."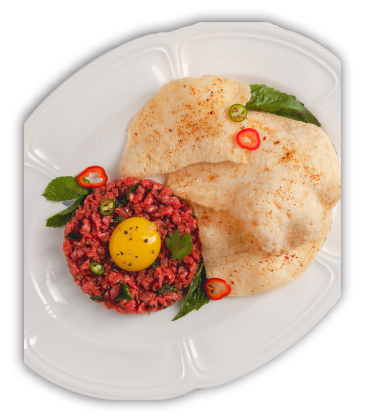 AN ECLECTIC CLIENTELE
Christie categorizes his clientele to include theatergoers, those from the neighborhood and other parts of the city, and out-of-towners who visit thanks to good word of mouth. "We've had a great crowd of theatergoers, neighborhood residents, and tourists and have hosted a few celebrities, including Gayle King."
RK also has plenty of artisanal beverages made with local liquors that they serve exclusively; some imported spirits that are obscure but flavorful, homemade syrups, and exotic fruit. But, of course, it goes without saying that what comes out of the RK bar is as creative as what comes out of the kitchen. Says Christie, "Rosevale Kitchen incorporates global influences into classic fare utilizing locally sourced ingredients. For example, our celebrated Steak Tartare is infused with Thai chili and lime, and the Orange Duck features Pho spices. The menu is designed to transform staple items into crave-able ones. We also incorporate seasonal ingredients and fresh produce for the spring and summer seasons."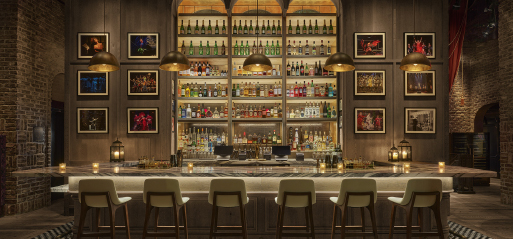 BRICK CHICKEN TO
BRISKET BURGERS
What dishes does Christie feel are the strongest, and what would he order if he was a first-time guest? "Our signature brisket blend, Rosevale Burger is one of Rosevale Kitchen's most popular items," he states. "The Brick Chicken and Meatloaf with the tableside mashed potatoes presentation also ranks among the must-have items. In addition, our menu offers a variety of shareable plates, appetizers, hearty entrees, and desserts. Rosevale Kitchen is a great option for theatergoers before or after a show."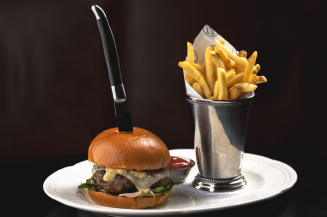 What is on the menu at Rosevale? Christie enthuses, "This spring, Rosevale will unveil its anticipated garden space. Chef Justin Romine is working on updating the menu with a few seasonal dishes for spring and summer. Rosevale Kitchen will offer brunch later in the summer on Saturday and Sunday. Rosevale Cocktail Room is preparing to introduce a world-class Vermouth program curated by master mixologist Francesco Lafranconi, Carver Road Hospitality's VP of Beverage & Hospitality Culture. The Irish coffee at Rosevale Cocktail Room, located on the second floor of the Civilian Hotel, is a tableside show in and of itself."
DECADENT DESSERTS
Speaking of coffee, the Illy cappuccino served at Rosevale Kitchen is off the charts. It's strong without bitterness, and it's possibly the best cup of coffee in Midtown West! Tea connoisseurs will appreciate that Dammann Freres Tea is served (it first got popularized by the Neiman Marcus holiday catalog). Be sure to team your caffeine with one or more of the fantastic desserts that RK has to offer. There is a rotating selection from week to week, but they are all house-made and unique. The Brown Butter Blondie with Macadamia Nuts is unforgettable. The Cheesecake Panna Cotta packs a significant wow factor because the Cassis Gelee on the bottom of the dish is oh-so-fresh tasting and slightly tangy. Finally, the Chocolate Lava Cake is made outrageously differently than anywhere else—it's a Sansho ganache-filled cake with candied kumquats and puffed rice.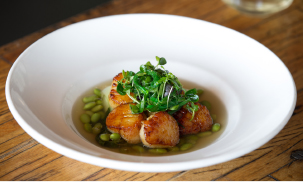 There's something for everyone at Rosevale Kitchen, whether they are difficult to please or care more about having cocktails than eating! The staff is not only super friendly, and always check to see if diners need to "make a curtain." The little courtesies like this and an outstanding menu make Rosevale Kitchen a "rising star"!
For more information on Rosevale Kitchen & Cocktail Room, visit rosevalenyc.com
RECENT ARTICLES