Have you ever stopped to ponder the extremely New York phenomenon of spontaneously running into anyone and everyone you've never wanted to, while needing to plan 80 months out to see the people that you do like? It's basically a running joke that every time I do run into someone I'm friends with, we whip out our calendars and tick through six weeks of conflicts before we can settle on one off-the-cuff coffee date. So it was a total delight that last weekend I had the chance to somewhat spontaneously meet up with two dear friends for dessert in Little Italy, catching up over late-night cappuccinos, hot chocolate and cake before heading off on our respective weekend MTA odysseys. There's something distinctly magical about the unplanned hang, and even though I sometimes believe our fair city conspires against us, it is possible!! See you out there!!
🍀 sláinte, new york!!
If there's one thing putting together a list of Hell's Kitchen-based movies taught me, it was that Midtown and HK have an indelible link to Irish-American history and to St Patrick's Day!! Celebrate locally with:
🍀🍀🍀🍀🍀🍀🍀🍀🍀🍀🍀🍀🍀🍀🍀🍀🍀🍀🍀🍀🍀🍀🍀🍀🍀🍀🍀🍀🍀🍀🍀🍀🍀🍀
🎉 a jaunt up 5th Ave
There's a bit of family lore around the time my uncle, father, brother and cousin accidentally got swept into the Boston St Patrick's Day Parade sometime in the mid-90s. While in almost any other circumstance they would have been not-so-politely directed out of the route, my delightfully Irish uncle's lime-green Oldsmobile fooled officials into thinking they were a part of the festivities and they rode along for a few blocks and waved to everyone. Look out for them at this year's New York City St Patrick's Day Parade on Friday March 17 at 5th Ave and W44th Street.
🎶 lend us some tenors
Celebrating 25 years of song, Anthony Kearns, Ronan Tynan and Declan Kelly — otherwise known as The Irish Tenors, play Town Hall on Friday, March 17 in an evening of soothing songs and a bit of humor to warm the heart!
🎨 reclaim paddy
Dublin-based photographer Ross O'Callaghan has spent the past 10 years photographing and documenting the lives of 50 men named Paddy — spanning age, religion, sexuality, background — in an effort to subvert the preconceived notions around the term commonly used as a slur for Irish-Americans in late 19th and early 20th-century America. A selection of works from the Paddy Irishman Project is showing in an outdoor exhibit at Pershing Square opposite Grand Central Terminal now through Wednesday March 22.
🎶 festival on 11th ave
Join the crew at the Irish Arts Center for a free open house festival Sunday March 19 of "all-day traditional music and dance, live piano karaoke sing-alongs of Ireland and Irish-America's greatest hits, a performance and group lesson by World Irish Dance Champion Tyler Shwartz, spring equinox-inspired arts and crafts" and the premiere of short film series Tann Ann (Gaelic for "Once Upon A Time").
🍻 grab a pint
There is no shortage of lounges and pubs where you can raise a proper pint in Hell's Kitchen — including Rosevale Kitchen + Cocktail Room (offering its own St Patrick's Day-themed Irish Coffee mixology experience all weekend) and of course, our Hell's Kitchen go-tos for Guinness, live music and livelier celebration, The Mean Fiddler, The Landmark Tavern, Mercury Bar West, Gossip, Hibernia and McQuaids — all of whom are certain to provide a perfect St Patrick's Day party. Oh — and at Scruffy Duffy's they're doing a 20oz pint of Guinness for $7 all month (for those who complain a New York pint is too small and too expensive).
🍀🍀🍀🍀🍀🍀🍀🍀🍀🍀🍀🍀🍀🍀🍀🍀🍀🍀🍀🍀🍀🍀🍀🍀🍀🍀🍀🍀🍀🍀🍀🍀🍀🍀
👯 learn from the best
Celebrate Women's History Month and achievements in dance by taking a masterclass with Francesca Harper at Ailey Extension this Saturday March 18, where the well-known dancer and choreographer will lead students through the Forsythe improvisation technique and "encourage dancers to prioritize their creative thinking and to find pleasure in their movement"!
🌳 a walk in the park
Learn about the forgotten women who helped develop the legacy of Central Park, along with developments on the current campaign to include more female monuments, at the green space's Hidden History walking tour Saturday March 18.
🎭 nothing but nostalgia
Embarrassing home movies, friendship, family, grief — Kayla Engeman tackles it all in I Need a Hero, her one-woman, one-day show playing the United Solo Theatre Festival at Theatre Row Wednesday March 22.
🎤 make 'em laugh
Our friends at Cafe 424 and Prime Produce present an evening of tasty refreshments and stand up performances by Princess Gibbs, Samantha Santos, Andre Myrie, Nate Marshall and DC Williams, hosted by Kevin Sanchez at the Mangu & Oxtail Comedy Nite Saturday March 25!
🎶 i love a piano
Carnegie Hall hosts award-winning Canadian new-classical composer and pianist Steve Barakatt in his New York City debut Saturday March 18, where he'll play through selections from his large body of work, including THE UNICEF Anthem, which premiered on the International Space Station in 2009.
👯 40 shades of green
Party in Long Island City at the 40 Shades of Green: St Patrick's Day Gathering Friday March 17 where you can enjoy a plethora of Irish performers, including Irish step dance from Darrah Carr Dance and the McManus School of Irish Dance. You know they are going to kick ass!!!
🎮 gamer girls!!
Head uptown to the North End food Hall for a video-game-themed Women's History Month celebration this Saturday March 18 where you can enjoy food, video games, a Mario Kart tournament, DJ-spun tunes and a panel with industry experts like Video Game Amateur's content strategist Jess Morales; Aziza Brown, founder of the Dynamik Focus esports team; Mia 'NerdyNursey' Norman-Owens, twitch streamer with a focus on esports health; Rurouni Aly, cosplayer and anime enthusiast; and Anya Combs, former Director of Games at Kickstarter.
🍸 the legend of bloody mary
Confession: I'm not a huge Bloody Mary fan. Plz don't cancel me!!!!!! BUT I know lots and lots of people are fans of the brunch cocktail favorite so I am still shouting out the New York City Bloody Mary Festival this Saturday March 18 at City Point in Brooklyn. Enjoy savory varietals and snacks from multiple local bars, temporary tattoos and the chance to vote for The People's Choice Award for the city's best Bloody Mary. Out of fairness, I will abstain.
🛍️ secure the bag
I truly cannot tell you the chokehold the Herschel backpack has had over me since the early 2010s. These babies are stylish and sturdy!!! Why not pick one up for yourself at the Herschel Supply warehouse sale at Chelsea Market opening Friday March 17.
🎯P-A-T-R-I-C-K
If you're looking to bring some stakes to your St Patrick's Day celebration — please don't add them in the form of too many shots. Try St Patrick's-themed Bingo at The Standard Sunday March 19 instead!!! And yes, you can still do shots there. I should know!
🔥 Hot tip
We got the chance to take an exclusive, sneak-peek tour of the very cool, very new Manhattan Neighborhood Network studios, where you can not only apply to produce your own TV show through their public access channels (who needs an agent!!!!!) but also take classes on their top-of-the-line equipment that includes cutting edge tech like green-screen motion capture, a full network control center and the latest, greatest podcasting tools. I really could have used their guidance when I produced a few er, low-budget arthouse films that I tortured my family with in the 1990s.
HELL'S KITCHEN, Manhattan (PIX11) — In the spirit of St. Patrick's Day, a new Irish coffee has gone viral on social media — and New Yorkers can try it out in person.
All you have to do is head over to Rosvale Kitchen + Cocktail Room in Hell's Kitchen.
The drink takes about 10 minutes to make and it is built right in front of you, taking you on a flavorful journey.
PIX11's Michelle Ross has more in the video player.
Our new favorite Hell's Kitchen Spot
Hell's Kitchen is known for it's nightlife experiences, whether it be going to their unique restaurant and bars to their late night clubbing experiences. And we had the privilege to dine at one of the newest restaurants and cocktail bars at Rosevale Kitchen. As you enter Rosevale Kitchen, you are met with a modern American interior, adorned with decorations that have a very vintage feel. The overall design and ambiance feels like if a classic American restaurant and bar was elevated and modernized while still maintain the old style charm. The dinner menu itself has American dining classics with both seafood and red meat options with a few dishes having some Asian inspiration to it. The cocktail menu has a lot of variety, but draws inspiration from classic cocktails like bellinis, margaritas, paper airplanes, and negronis.
For our cocktails, we tried the Very Large Airplane and the Spicy Encounter. The Spicy Encounter was made with Tanteo Jalapeño Tequila, Ancho Reyes Verde, Passionfruit, Lime, Agave, and a Mezcal Float, being rimmed with a Spicy Worm Salt. This drink was delicious and reminded us of a fruit forward margarita. Upon first sip, you get the flavors of passionfruit and agave with a small note of heat from the ancho reyes that warms your palate. As you let the drink it on your palate, you then get the brightness from the lime with a hint of smoke from the mezcal which helps refresh your palate for the next sip. The spicy worm salt was a wonderful touch that gave a little bit more balance and helped deepen the flavors of the drink, especially lending itself to the brightness and smokiness aspects of the drink. For the Very Large Airplane, this was made with Japanese Gin, Aperol, Amaro, Lemon, White Strawberry. So instead of the usual bourbon in a Paper Airplane drink, they opted for a Japanese Gin which would provide a bit more hebaciousness to the cocktail instead of the oaky flavors from the bourbon. And it plays well with the bitterness from the Amaro and Aperol too. But at the very end of the sip, we got the playful sweetness mixed with a hint of acidity and brightness from the white strawberry and the lemon.
For the starting course, we tried the Caesar salad and the Shrimp Cocktail. The Caesar Salad was done with the classic romaine lettuce, parmesan, and croutons fixture. The greens were fresh and crisp which helped balance out the heavier parts from the dressing. The dressing itself was actually not in the classic Caesar dressing style where it incorporated components of anchovies and creamy egg yolk in it. Instead the creaminess was substituted for a lighter rendition and lent itself to the freshness of the salad. Instead the salty component came from the parmesan in little bits. A big highlight for this dish was the croutons were they were crisp, light, fluffy, and had a hint of sweetness to it which was a delightful surprise that provided a lot of balance to the dish. For the Shrimp Cocktail, it was served with a Horseradish Cocktail Sauce and a wedge of lemon. The Shrimp were immaculate, being so plump and juicy and bursting with sweetness. The cocktail sauce was a great pairing where there was the classic sharpness and tanginess from the horseradish but ended with a sweet acidity that lent itself well to the shrimp.
For our mains we opted for the Orange Duck and their Fish Of The Moment special. The Orange Duck is a Rohan Breast cooked with Pho Spices and a duck jus. The duck was cooked nicely with a beautiful sear on it. The sear lent itself for a wonderful bite with a crispy texture and the duck meat soaked up the sweetness from the duck jus that added depth of flavor and brightened up the fish. The duck was served atop a bed of vegetables that absorbed a lot of the flavors from the jus and allowed for the perfect marriage between the duck and the vegetables.
For the seafood special, it was a Blackened Sea Bass with a chili white wine sauce served with spring greens. This fish special was absolutely delicious and hopefully they make it a permanent option on the menu because it was that good. The fish was so flakey but incredibly moist and tender to the point where it melts in your mouth. The sea bass has a delicate flavor to it that lingers on your palate and pairs perfectly with the white wine sauce. The sauce itself had a little bit of heat to it but not enough to overpower the flavors in the fish.
And to round out our meal, we had both the Brown Butter Blondie and the Cheesecake Panna Cotta for dessert. The Blondie was made with Macadamia Nuts, White Chocolate Chunks, and paired with a Milk Chocolate Gelato. This blondie was definitely one of the best we have ever had with a perfectly crisp exterior while still being moist and delicate on the inside. Each bite had such a decadent feel and flavor to it and the white chocolate chips provide a very airy and light sweetness to the dessert. The nuts give such great texture to the dish and paired with the gelato added a refreshing sweetness to you palate.
For the Panna Cotta, that was paired with a Graham Cracker Crumb on top. The panna cotta was fluffy and airy with a perfect bounce to it. The cheesecake flavor had the perfect balance of savory and sweet to it and the crumble that sat on top gave a beautiful addition of texture to the dish where in other situations a panna cotta would be one note with texture.
Once we finished our meal, our night was not over. Sitting on the next level up from Rosevale Kitchen is the Rosevale Cocktail Room. The setting is dark and moody with a very intimate feel. The décor draws the eye all around with room where you can find intricate dioramas displayed at every inch all the way up to the 15 ft ceilings. The finishings on the room add an elegant feel to the room and it resembles the style of an upscale speakeasy without having the pretentiousness of memorizing a password or knowing to walk through a refrigerator like some of the current NYC speakeasies do. And during the summer, the Rosevale Cocktail Room will finally open up its balcony section so you can enjoy some of their delicious craft cocktail while basking in the sun.
If you have been on cocktail TikTok, you might know the Rosevale Cocktail Room based on this drink we ordered. Called the Rosevale Irish Coffee, this is Rosevale's take on an Irish Coffee with some elevated twists on it. This order is served for two and is made with Teeling Small Batch Irish Whiskey, Apple Brandy, Illy Coffee, Cider Donut Cream, and topped with Cacao. The present this drink is a two chamber diffuser of sorts. On the bottom chamber is the whiskey and brandy and in the top are an arrangement of spices and ingredients like black tea, star anise, cardamom, and orange slices. The server will place a flame directly below the bottom chamber and slowly the alcohol will flow from the bottom chamber to the stop and steep in the spices and ingredients. Once all the alcohol has been transferred to the top, the flame is taken away and the liquid slowly falls back down to the bottom chamber. That liquid is poured into your glass where the server then pours a decadent cider donut cold foam on top. The last, and some would say the most important step, is that a 5 lb Hershey's Kiss is brought to you and they shave the cacao from the kiss on top of the drink.
The drink upon first sip has such an intense depth of flavor from the black tea, star anise, and cardamom that almost wakes your entire palate up. As you keep sipping, your mouth is enveloped by the creaminess from the drink and the cold foam. The drink is obviously very spirit forward so sipping slowly and occasionally will help with both savoring every flavor that is in this drink while also not having you feel light headed in the end.
Our lasting impression of both the Rosevale Kitchen and Rosevale Cocktail Room is that these two spots are some of the best dining and drinking locations in Hell's Kitchen. The food in the kitchen was simple and familiar but had classic and clean flavors where it would be hard not to enjoy it. The cocktails in the kitchen also pair amazingly well with the food and we love their elevated takes on classic cocktails. For the Cocktail Room, this is something we will be stopping by for again. Whether it's a date night or a night out with friends, the Rosevale Cocktail Room will meet all your needs and give you some of the best cocktails in Hell's Kitchen.
Here are a few place in NYC that are excited to host Kentucky Derby-themed happenings and specials in celebration of the races.
Refinery Rooftop
It's time to grab your seersucker blazers, floral dresses, bright pastels, and wide-brimmed hats as the Refinery Rooftop saddles up with its annual Kentucky Derby Party viewing party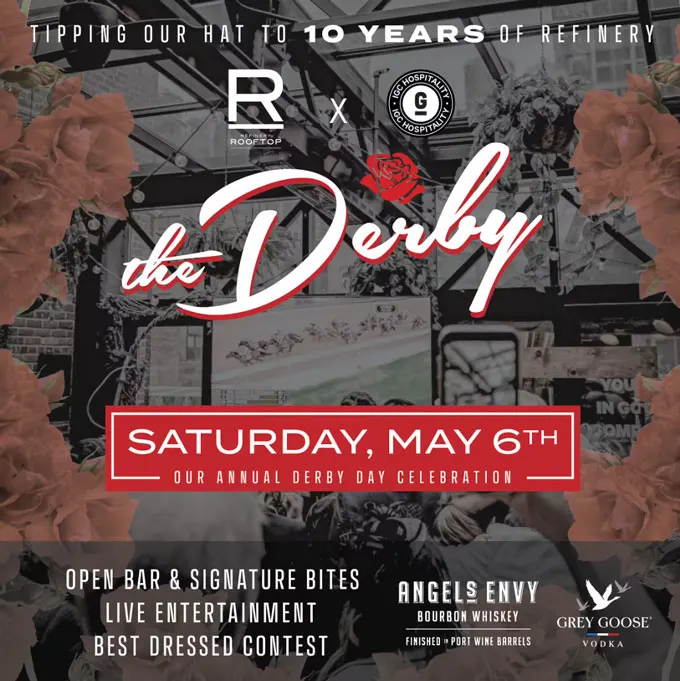 On Saturday, May 6th (3:30 pm – 7:00 pm ET), attendees can channel their Derby-est look and join in on the following:
Open bar
Passed appetizers and desserts
Live entertainment and streaming of the Derby
A contest for the best dressed Derby outfit
The highly-anticipated event also features a signature cocktail created specifically for this event, live DJ's and music, and hours of Derby fun.
Civilian Hotel
Celebrate the Kentucky Derby on May 6th in your best derby attire at Starchild Rooftop and Rosevale Kitchen and Cocktail Room located at the Civilian Hotel in Hell's Kitchen. Mint Juleps, shareable cocktails and food specials will be available beginning at 5pm at Starchild Rooftop and from 9pm-11pm as well as Live Jazz at Rosevale Kitchen.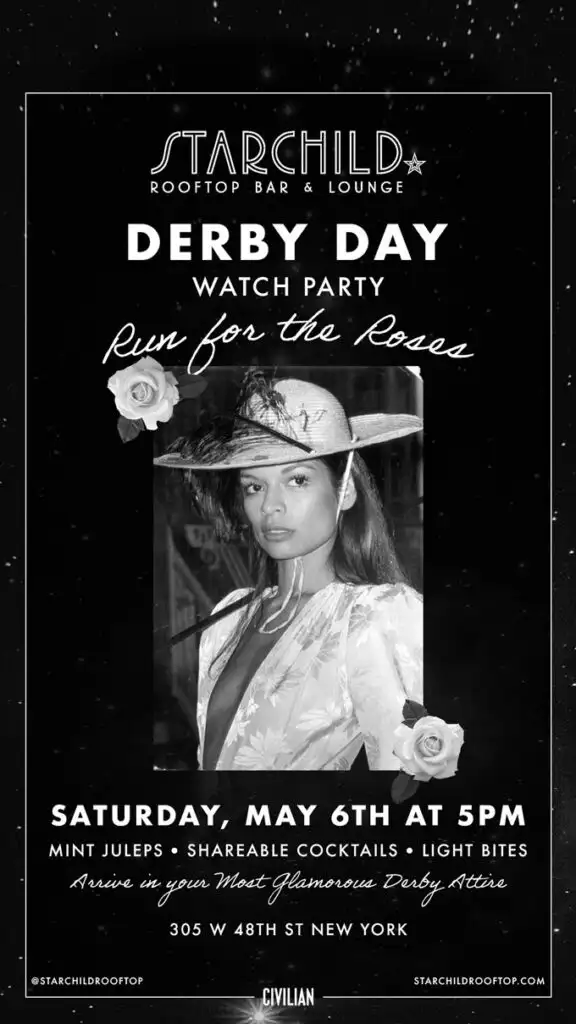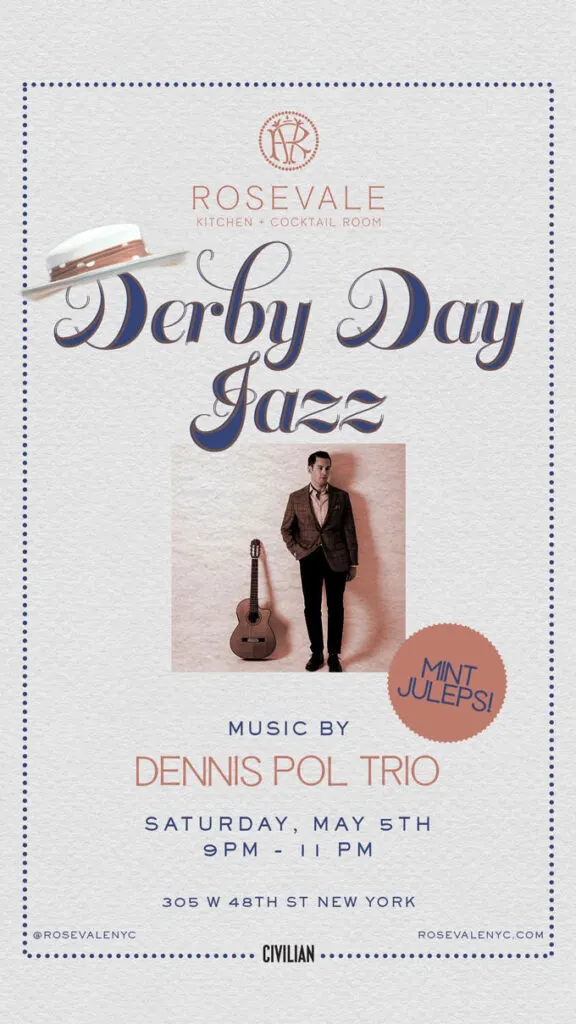 ROOF at Park South
ROOF at Park South has recently opened for the season and will host a Derby Soirée this Saturday, May 6th, to celebrate the Kentucky Derby in style.
This event will be a partnership between the rooftop, Woodford Reserve Bourbon, and Herradura Tequila, providing guests with a selection of delicious beverages, including the classic julep. In addition to the delicious drinks, there will also be Derby-inspired bites and exciting giveaways, including gift cards to Sweetbriar, the sister restaurant. To top it off, the rooftop will host a friendly competition for the best dress outfit, so be sure to inform your reader to wear their best hats and seersucker fits!
The event will run from 4 pm to 8 pm, and tickets are available on Resy for $55.
The Bar at Moynihan Food Hall
Guests can sit back with an Old Forester Mint Julep in their own souvenir cup and watch the big race on The Bar at Moynihan Food Hall giant screens. Pair the Mint Juleps with some delicious Loaded Fries from Jacob's Pickles and you're celebrating the Derby like a real Southerner. DJ's keep the party going all day and night.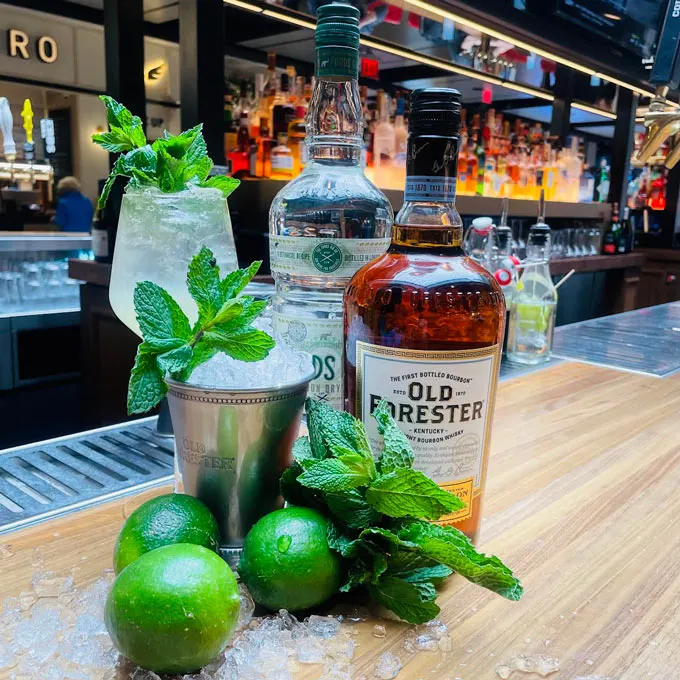 Winter brings early sunsets, frigid temperatures, and a whole lot of nasty gray slush to the streets of New York—but fortunately, there's no shortage of cozy watering holes to take your mind off of the sleet and snow. Whether you're in the mood to dine on fresh sushi paired with sake, sip craft beer to the tune of live jazz, or take the edge off with a little tej, these bars, restaurants, and lounges are sure to leave you and your partner with a whole lot of fond memories.
grotto
Disappointed by the lack of sapphic-centered bars in New York City, Brooklyn couple Austa Somvichian-Clausen and Victoria Geddes took matters into their own hands, launching grotto as a two-month pop-up in the Parlor Room of the Ludlow House. Since then, the venue has become one of the city's most romantic getaways for queer couples. There's a wealth of elegant flourishes to admire during a visit—intricately-carved statuettes, a roaring fireplace, and edible chocolate pearls at each table, to name a few—and there's a small-but-mighty cocktail menu offering sweet selections like the fig-forward Sapphic & Soda and the Pandan-Colada, a zero-ABV drink with refreshing coconut and lime notes.
La Marchande
Equipped with cozy booths, a polished marble bar top, and intricate wildlife-loaded wallpaper, La Marchande brings a touch of French elegance to the edge of Wall Street. Complex cocktails, fragrant orange wines, and refreshing mocktails all make an appearance on the drinks menu, but for a truly romantic start to the meal, kick off the date with a vermouth flight featuring carefully-curated bottles from across the Mediterranean. Once you've whet your appetite, the brioche pull aparts with scallion crème fraîche pair perfectly with your last few drops of vermouth, while the pot au feu embodies the world-famous sophistication of French cuisine, serving as the perfect ticket to a memorable night on the town.
Lee's Tavern
Just west of Ocean Breeze Park, Lee's Tavern has been a Staten Island staple for nearly a century—and the secret to their success? Piping-hot pizza served straight from the oven since 1940. This tried-and-true classic is definitely the main attraction around here, with options ranging from white clam to homemade mozzarella and basil, but for a truly delicious date night, spring for an order of ultra-crispy buffalo calamari to pair with your pie. Add in a glass of red and some foamy draft beer from The Flagship Brewing Company and you'll be well on your way to the perfect night in Richmond County.
Coney Island Brewery
While Coney Island is particularly lively during the warmer months, this iconic bayside neighborhood still has some cozy watering holes to visit when the weather turns cold. Case in point: Coney Island Brewery, a colorful outpost that's been dishing out top-quality beer since 2007. Brews range from the crisp Nathan's Famous Lager to the Sideshow Seance—a 8.5% stout packed with chili pepper, cocoa nibs, and raisins—but beer isn't the only thing drawing in winter visitors. Be sure to swing by on Thursdays to test your music trivia knowledge, while live jazz, brewery tours, and themed dinners occur all throughout the season.
Sake No Hana
The refined culinary prowess of Japan is on full display at Sake No Hana, a vibrant izakaya-style restaurant beneath the Moxy LES. Short rib yakimeshi, black truffle steak tartare, and crispy Tokyo gyoza are just a few of the dazzling dishes awaiting visitors, while seafood fans have a treasure trove of options to parse through, with savory selections like barbecue and black truffle unagi gracing the menu. Spirits aficionados take note—the drinks program around here is just as carefully crafted as the food menu, offering visitors an opportunity to sample intricate cocktails like the agave and chili-loaded Gyaru Girl, while the Women's Flight highlights some of the finest sakes produced by women brewers.
Rosevale Cocktail Room
Once you've ascended the Civilian Hotel's grandiose staircase, Rosevale Cocktail Room is fully prepared to make your wildest spirit-forward dreams come true. Concoctions like the tequila-heavy Spicy Encounter and Irish coffee are certain to warm up the palate, and as an added bonus, it's tough to find a more picturesque hangout spot than the Rosevale's Blue Room. Designed by esteemed architect David Rockwell, this sophisticated lounge perfectly matches the elegance of the cocktail program, draped in rich navy blue flourishes and adorned with vintage decorations sourced straight from Broadway.
Sugar Monk
In need of a complex cocktail crafted by one of Harlem's most talented bartenders? Head to Sugar Monk, a polished lounge just a block away from the Apollo Theater. There are 29 tantalizing cocktails up for grabs, with options ranging from intricate spins on the classics to eclectic new creations, with many of them containing rare herbs and roots foraged from the wilderness by the renowned Tama Matsuoka Wong. On a cold night, the applewood-smoked Marie Laveau is a must-try, while the house-made Akhenaten amaro stands as a testament to Sugar Monk's masterful command of botanicals, with more than 40 different ingredients mingling in each bottle.
Paraiso Colombiano
Paraiso Colombiano is one of Corona's top spots for—you guessed it—Colombian cuisine, offering a wealth of tried-and-true favorites from all across the nation. Start your date off right with a round of spicy margaritas or passion fruit martinis, then toss in an order of tostones con hogao to snack on as you enjoy the ambiance. It's tough to go wrong with any of the main dishes around here, but if you're in a seafood mood, the cazuela de mariscos is the perfect antidote to a cold winter night, while the bandeja paisa is a must-try for newcomers to Colombian cuisine.
Brunna Cafe
A paradise for plant-based dining, Bushwick's Bunna Cafe specializes in classic Ethiopian cuisine that's prepared without a single molecule of animal protein. Colorful menu items like the keysir selata and yatakilt alicha are sure to wow any potential partners, and the communal dining experience is perfect for crafting a memorable first date. While the food at Bunna Cafe is pretty stellar, the venue also excels at the art of cocktails, offering unique concoctions like the tej mimosa, a take on the classic drink that ditches the typical Champagne in favor of tej, a type of honey wine that's been enjoyed in Ethiopia for thousands of years.
Aldama
With a massive array of tequilas, mezcals, and sotols all up for grabs, Aldama is a dream come true for the agave lover in your life. To kick off date night, toast with a tropical fruit-forward Lava Paradise—or grab a neat pour of tequila to really get the party started—and make sure you've worked up an appetite, because Aldama is a star player in Brooklyn's Mexican dining scene. There's a wealth of seafood dishes to sample including pulpo zarandeado and yellowtail ceviche, but if you're in the mood for some truly flavorful beef and pork, don't miss out on the taco de trompo.
Angel's Share at Hotel Eventi
Opened during the tail end of the 20th century, Angel's Share revolutionized the national cocktail scene, earning a stalwart reputation and hordes of adoring fans by the 2010s. The bar was forced to shutter its doors in early 2022, but fortunately, Angel's Share has risen like a phoenix, taking on new life in the form of a tiny pop-up speakeasy in the Hotel Eventi. Cold weather cocktails like the Sleep Warm and Danny Boy are two particular standouts on the current menu, while visitors who prefer their spirits neat can make a selection from the bar's lengthy list of Japanese whiskies.
See her favorite new releases in movies, music, celebrity skincare, and more.
"The World According to Gayle" is Oprah Daily's new video series spotlighting all things Gayle each and every month. Our editor at large is sharing her favorites of the moment, from buzzy new albums to fantastic restaurant finds you'll want to try. Check back each month to see the latest!
---
In the month of February, many people are excited for love on Valentine's Day (which for single me is just a regular ol' Tuesday) or for Black History Month. So why is it that the two most important celebrations get the shortest month? We need love all the time, and Black people should be celebrated all year long! Either way you put it, February has a lot of offerings. See below for all the releases I'm looking forward to in "The World According to Gayle."
Loved01 by John Legend
Every morning before heading to my day job at CBS Mornings, I set my alarm for 3:24 a.m., and after snoozing once (or thrice), I start my day with a special ritual: a bath. What made it extra special this month? John Legend's new bodycare line, Loved01. As a disclaimer, I love anything John Legend makes. To me, he is all things quality and class, and although the celebrity skincare industry is booming, I don't think he'd do anything for the cheap, which means having a line made for melanin-rich skin with affordability in mind is something he is going to give his all. I got to try this new line, which is officially out February 1, and it spruced up my bath time, which is just usually me in my Black girl bonnet with Johnson & Johnson. My favorite is the cleanser, which is the perfect creamy consistency, and the exfoliating scrub has just the right amount of scratch.
Your Place or Mine? on Netflix
I always love a good rom-com, but I really love Reese Witherspoon and Ashton Kutcher together—I've never seen them together before! In this movie, they play Debbie and Peter, and their story goes like this: They are both the one that got away, but neither of them wanted to admit that they got away. What I loved about this movie is that there are so many realistic trials and tribulations. They have a 20-year friendship, and both were in relationships with other people, but they always had each other's back. The cast includes Jesse Williams, who was described in the film as "the sexy cherry on top" and yes, we can agree! Like any good rom-com, there's a little bit of cheese to it, but it shows that love can come later in life and that second chances may be your best chance yet. The film is titled Your Place or Mine? And by the end of the movie, you get the answer to that question. See it on Netflix February 10.
Rosevale Kitchen + Cocktail Room
There's nothing I enjoy more than a delicious meal, so when I heard there was a new cool, hip restaurant in town, I made a reservation for me and some foodies in my life to check it out. Rosevale Kitchen is tucked inside the Civilian Hotel in the theater district, which three years ago was just a parking lot! For lunch, I recommend the savory vegetarian tart, which consists of a flaky crust with eggplant, slow-roasted cherry tomatoes, summer squash, and basil. Their French fries are made with beef fat, so you know that was a hit with us potato connoisseurs. And a surprise winner was their Caesar salad: the anchovies. Don't usually like them, but I didn't mind them here. So next time you're in the Big Apple, be sure to make a stop at Rosevale Kitchen for all their deliciousness.
Trustfall, by Pink
We haven't heard from Pink in a while, but she is back with her ninth studio album, Trustfall. In an interview, she said that this is the best album she's ever done because she can be softer and has a chance to tap into a quiet power. In her first single, "Never Gonna Not Dance Again," she says she "wants [her] life to be like a Whitney Houston song." (I assume she means a dancing to a Whitney Houston song.) I especially love the part in the song when she says, "I got all good luck and zero f***s." The album features dancing, ballads, heartbreak, and lots of fun—which means she has a song for everyone. Listen to the full album on February 17.
---
I want to hear from you! Let me know what you think of my list in the comments below. And what should I be looking forward to next month?
---
Tuesday, February 14, 2023 5:00 PM
Hell's Kitchen
Celebrate Valentine's Day with a romantic dinner for two at Rosevale Kitchen! Menu: shorturl.at/ijsDZ
---
Valentine's Day
Three-course Valentine's Day dinner ($79 pp)
Choice of 5 starters, 4 mains, 3 desserts
Live jazz from 8-10 PM upstairs in Rosevale Cocktail Room
Sorry, sale has ended
About
Celebrate Valentine's Day with a romantic dinner for two at Rosevale Kitchen! Live jazz by Charlie Roman Hot Club upstairs in the Cocktail Room from 8 – 10 PM. Menu: https://www.flipsnack.com/55AEEE77C6F/rosevale-kitchen-valentine-s-day-menu-tmqolicrzp/full-view.html
Chic With A Retro Twist
Warm and cozy with an edge" is how guests describe the spacious Rosevale Kitchen & Cocktail Room in the two-year-old Civilian Hotel. High ceilings and giant multi-paned front windows are perfect for people-watching while you dine. The reddish-brown leather booths are spacious and can fit as many as six people; it's worth it to request the super comfy "VIP booth" in the far-right corner to get the bird's eye view of what's happening in the dining room and out on the street!
The crowd tends to be young food lovers who like all the surprises: Matzo Ball Soup that features homemade chicken broth, fresh chive and parsley mix with schmaltz poured into your bowl via an elegant rose-covered porcelain teapot! Other dishy options include the quirky Steak Tartare, which features minced locally sourced sirloin, Thai flavors, lime juice, and shrimp crackers. The French Fries are unique since they are fried in beef tallow instead of vegetable oil. Haven't had a Fried Bologna Sandwich since you were six? There's one on the Rosevale menu that includes Mortadella, Provolone, and Cherry Pepper-Dijonnaise, and it is truly an intense mix of flavors! There is no stopping Executive Chef Justin Romine from coming up with retro foods that are turned inside out and given a few outrageous new ingredients!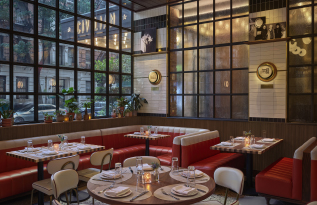 THE BACKSTORY
New York Lifestyles met Sean Christie, CEO of Carver Road Hospitality, the parent company of Rosevale Kitchen, and learned how its vibe and menu were created. Christie has a long career in hospitality having held positions as President of Events and Nightlife for MGM Resorts International and also Executive Vice President of Business Development for Wynn Resorts. He says he "spearheaded the development of multiple food and beverage concepts for both companies."
He revealed to NYL, "The partnership with Civilian Hotel was born with Jason Pomeranc seeing the need for moreaspirational food and beverage concepts. David Rockwell's involvement was also a big draw. With Rosevale Kitchen & Cocktail Room we can curate experiences from cocktail hour through dinner and into late night."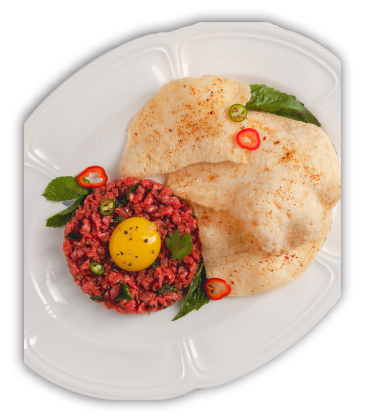 AN ECLECTIC CLIENTELE
Christie categorizes his clientele to include theatergoers, those from the neighborhood and other parts of the city, and out-of-towners who visit thanks to good word of mouth. "We've had a great crowd of theatergoers, neighborhood residents, and tourists and have hosted a few celebrities, including Gayle King."
RK also has plenty of artisanal beverages made with local liquors that they serve exclusively; some imported spirits that are obscure but flavorful, homemade syrups, and exotic fruit. But, of course, it goes without saying that what comes out of the RK bar is as creative as what comes out of the kitchen. Says Christie, "Rosevale Kitchen incorporates global influences into classic fare utilizing locally sourced ingredients. For example, our celebrated Steak Tartare is infused with Thai chili and lime, and the Orange Duck features Pho spices. The menu is designed to transform staple items into crave-able ones. We also incorporate seasonal ingredients and fresh produce for the spring and summer seasons."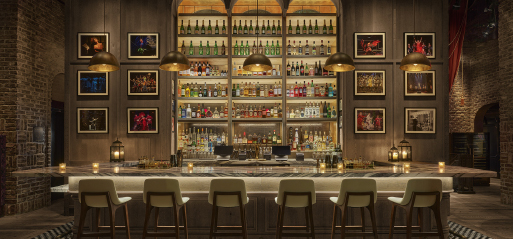 BRICK CHICKEN TO
BRISKET BURGERS
What dishes does Christie feel are the strongest, and what would he order if he was a first-time guest? "Our signature brisket blend, Rosevale Burger is one of Rosevale Kitchen's most popular items," he states. "The Brick Chicken and Meatloaf with the tableside mashed potatoes presentation also ranks among the must-have items. In addition, our menu offers a variety of shareable plates, appetizers, hearty entrees, and desserts. Rosevale Kitchen is a great option for theatergoers before or after a show."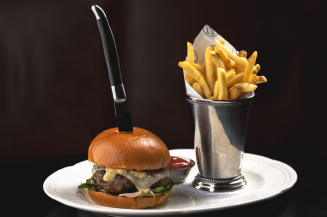 What is on the menu at Rosevale? Christie enthuses, "This spring, Rosevale will unveil its anticipated garden space. Chef Justin Romine is working on updating the menu with a few seasonal dishes for spring and summer. Rosevale Kitchen will offer brunch later in the summer on Saturday and Sunday. Rosevale Cocktail Room is preparing to introduce a world-class Vermouth program curated by master mixologist Francesco Lafranconi, Carver Road Hospitality's VP of Beverage & Hospitality Culture. The Irish coffee at Rosevale Cocktail Room, located on the second floor of the Civilian Hotel, is a tableside show in and of itself."
DECADENT DESSERTS
Speaking of coffee, the Illy cappuccino served at Rosevale Kitchen is off the charts. It's strong without bitterness, and it's possibly the best cup of coffee in Midtown West! Tea connoisseurs will appreciate that Dammann Freres Tea is served (it first got popularized by the Neiman Marcus holiday catalog). Be sure to team your caffeine with one or more of the fantastic desserts that RK has to offer. There is a rotating selection from week to week, but they are all house-made and unique. The Brown Butter Blondie with Macadamia Nuts is unforgettable. The Cheesecake Panna Cotta packs a significant wow factor because the Cassis Gelee on the bottom of the dish is oh-so-fresh tasting and slightly tangy. Finally, the Chocolate Lava Cake is made outrageously differently than anywhere else—it's a Sansho ganache-filled cake with candied kumquats and puffed rice.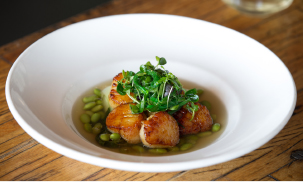 There's something for everyone at Rosevale Kitchen, whether they are difficult to please or care more about having cocktails than eating! The staff is not only super friendly, and always check to see if diners need to "make a curtain." The little courtesies like this and an outstanding menu make Rosevale Kitchen a "rising star"!
For more information on Rosevale Kitchen & Cocktail Room, visit rosevalenyc.com
Before The Broadway Show with Tamsen Fadal airs nationwide this weekend, we're offering a first look at the episode. Hosted by Emmy winner Fadal, this episode will air in New York City on March 5 at 4:30PM ET on WPIX. Be on the lookout for The Broadway Show, the only nationally syndicated weekly theater news program, on your local TV station.
Featured this week:
To find out where The Broadway Show with Tamsen Fadal airs nationally, head here.